Find the
perfect

home plan. For

less.

 
Your Dream Home Starts With My Home Floor Plans
Through our collaboration with numerous designers and architects, we are able to offer you a selection of over 20,000 unique floor plans. Each plan is compliant with current residential construction codes. Every plan package is slightly different in the precise blueprints and architectural drawings included due to the wide diversity of plans we provide.
What Do Plans Typically Show?
Plans vary in the specific sheets included, but in general you can expect to receive the following: 
Front Elevation (Colored)
Want to know what your home would look like before you purchase?  We've started off with random exterior colors.  Feel free to save the Front Elevation Page to your computer and edit with Microsoft Paint to your liking.  Contact us anytime if you need further detailed instructions.
Exterior Elevations
The purpose of exterior elevations is to show the building's design from the outside. Everything from the fascade to the windows, doors, and outside finishes are included in this (such as siding, brick, etc.)
Architectural Floor Plans
Think of the house as if it were cut in half horizontally at a level that would include all of the doors and windows. 
Structural Floor Plans
Plans come with original detail sheets, notes, and structural floor plans that had previously been reviewed, fixed design issues, sealed, and certified (you will need to have your local engineer update and seal the plans again).
Having a plan that has been previously engineered reduces or likely eliminates any design issues you might have encountered.  It will also be very helpful for your local engineer and should reduce costs and engineering time.
Foundation Plans
The foundation plan shows the footings, foundation walls, and the placement of posts, beams, and load-bearing walls as needed. There are two foundation plans included: with and structural.
Drawn to scale. Depending on the plan, there will be a crawl, mono, or stem wall foundation.
Roof Plan
There are two roof plans included: with and structural.
Most plans do not have electrical sheets. This is usually completed by your contractor. However, we can create electrical pages ($100 per home plan).  We can typically create and send these plans within 4 days of purchase.  Included in the total cost, are 2 revisions at no charge.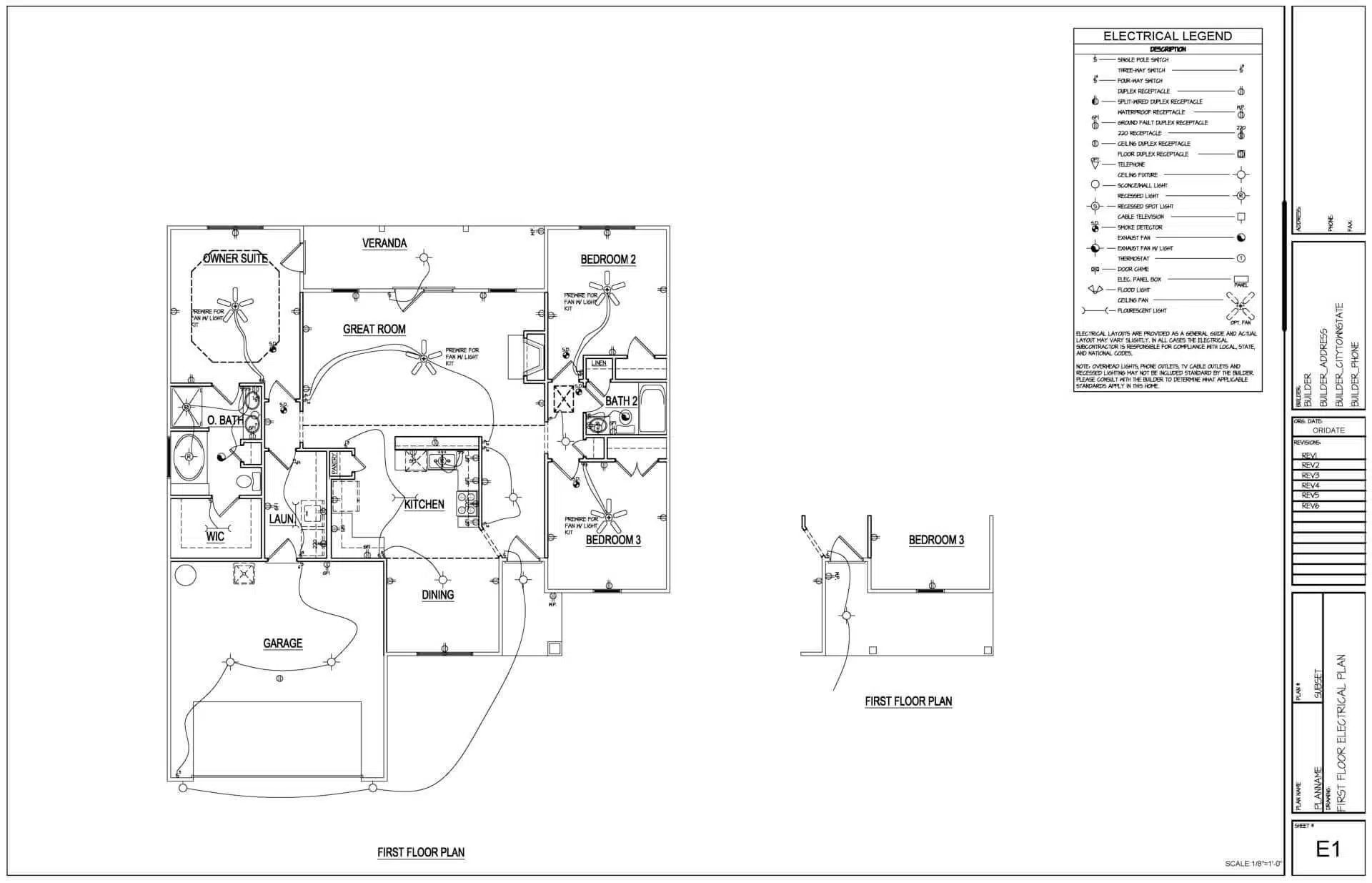 NOT TYPICALLY INCLUDED WITH OUR HOME PLANS
The following areas are not normally included in our plans, but they are frequently included in other plans. While our house plans contain all the information necessary to construct your home, your local government may request these additional materials. Before you purchase a set of house plans, we advise you to speak with your builder, a local engineer, and building officials to discover the local, county, and state building codes. Refer to the plan's detail page to establish any additional requirements. In addition to your house layout, you might need to obtain the following:
Architectural or Engineering Stamp
Depending on city, county, and state construction laws, an architect or engineer may be required to assess house blueprints for structural elements and code compliance.
Contact a local architect or engineer to confirm the location's specifications.
Site Plan
Site Plan This document also indicates, based on the land's topography, which side the garage should be placed on, as well as where parking, drainage, sewer lines, water lines, lighting, landscaping, and pathways should be built.
To receive the site plan, consult a civil engineer.
Engineering Drawings
These kinds of technical drawings depict information on heating, ventilation, and air conditioning.
Contact an HVAC company in your area for mechanical drawings.
Plumbing Drawings
These diagrams depict the location of all plumbing fixtures within and outside the structure.
Contact a plumber in your area.
Energy Calculations
These calculations establish your new home's energy efficiency.
Contact a local engineer to perform these calculations for you.
Truss Packages
This information determines the structural framework of the building's timbers.
Contact a local truss manufacturer.
Materials List
This is a comprehensive list of the materials required to construct this dwelling. Some of our designers give a materials list for an extra fee.
To create this list, contact a local building supply company in your area.